We are the Official SPM Oil & Gas Distributor in the European Market. We are offering (critical) parts from our stock in Celle – Germany, or from the Manufacturer, in Aberdeen – Scotland or USA.
Ask for a quote
Feel free to contact us for SPM Oil & Gas products.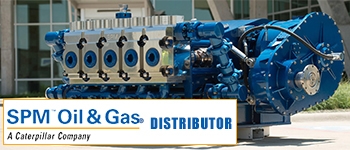 N.P.S. pipe comes in 2-inch 1502, 3-inch 1502, 4-inch 1002 and 4-inch 1502 configurations. When strong cyclic loading is predicted, SPM Oil & Gas ® recommends its integral pipe and crossovers.
Integral pipes are manufactured in 2-inch to 4-inch sizes for operating pressures up to 15,000 psi and in lengths up to 240 inches. Integral pipe is available as standard length pup joints, or custom length long-crossovers.
Manufactured from high strength alloy steel forgings, SPM Oil and Gas ® integral union connections are available in lateral, tee, wye, ell and cross configurations. All SPM Oil & Gas ® integral union connections are subjected to controlled heat-treat processes to help integrity.
SPM Oil & Gas ® hose loops can handle a full range of fluids to cold working pressures up to 15,000 psi and come in sizes and configurations to meet any need. Hose loops for sour gas service are available at cold working pressures up to 10,000 psi. SPM Oil & Gas ® hose loops perform well in a variety of high pressure well service applications including discharge lines, water lines, cementing and circulating lines, well test lines and temporary flow lines.
SPM Flow Line Safety Restraint (FSR) System
First offered in 2000, the FSR system is used both onshore and offshore to increase safety during pumping operations. It received the Best Mechanical Engineering Innovation Award from the American Society of Mechanical Engineers in 2002.
It is approved by several major exploration and production companies for use in pumping operations and accepted by WorkSafeBC (Workers' Compensation Board of British Columbia) for compliance with a government mandate that flow line piping systems be anchored and restrained during well testing or stimulation operations.
SPM Oil & Gas ® swivels are available in a variety of styles to provide optimal performance in diverse installations. Swivel rotation varies depending on configuration to provide movement in numerous planes. SPM Oil & Gas ® swivels are available as NACE compliant to offer robust performance in sour gas applications.
SPM Oil & Gas 
® plug valves feature precision machined, ground components that ensure proper sealing at a wide range of operating pressures. The nickel-plated plug reduces corrosion on critical areas for improved product life. These valves range in size from 1-inch to 4-inch and operate in working pressures up to 15,000 psi.
SPM SD Clapper Check Valves
SPM Oil & Gas ® clapper check valves, unlike dart style valves, are designed for fluids heavily laden with proppants, ball sealers and other solids. The threaded seat features a self-locking design to prevent coming loose during operation and is replaceable for extended product life.

These clapper check valves are manufactured in 2-inch, 3-inch and 4-inch sizes for operating pressures up to 15,000 psi. Hammer union end connections are available in standard or reverse flow. The clapper check valve should be installed with the flow direction arrow machined on the body aligned with the line's flow direction.
The SPM Oil & Gas ® dart style check valve acts as an independent pressure actuated response system in well service applications including acidizing, cementing, fracturing, sand control, and well kill.
Dart valves are recommended for use in services where the fluid media does not contain abrasive materials. For those applications, the SD clapper check valve will provide enhanced performance and extended life. These dart valves are manufactured in 2-inch and 3-inch sizes for operating pressures up to 15,000 psi.
Leading the industry in the design and manufacture, Weir offers a variety of plungers engineered to fit almost all pumps from any manufacturer. The SPM Oil & Gas ® nickel-based plunger is well-known in the market for its performance and the SPM® tungsten plunger has had proven success.
Engineered to operate for extended periods when compared to traditional SPM Oil & Gas ® plungers, this plunger can help customers reduce their operating costs through the increased reliability and availability of equipment.
Valve 2.0 is the product of extensive R&D investment in design, followed up with rigorous testing and field trials. Optimized for fluid flow and built for durability, it simply outperforms expectations, delivering a 50% reduction in stress and strain, more than 50% reduction in total erosion, and more than 75% reduction in seat erosion.
SPM EdgeX Valve and Carbide Seat
With patented tungsten carbide insert technology, SPM Oil & Gas ® EdgeX™ Valve and Carbide Seat it's the first valve seat to deliver the exceptional life of tungsten carbide without the risk of shattering.
In the field, the SPM Oil & Gas ® EdgeX™ Carbide Seat consistently outlasted conventional steel seats by more than six times, even in the harshest conditions. With up to 760 hours of operating life – and counting – the EdgeX™ Carbide Seat dramatically reduces on-site risk, maintenance, and downtime.
The SPM Oil & Gas ® EXL wing nut is engineered to minimize stress concentrations at critical locations. A comprehensive analysis confirmed the design reduced fatigue stress resulting in a 235% increase in cycles prior to failure. This fatigue analysis is based on 1,500 lb. alternating side load..
SPM TWS 600S HD Well Service Pump
The SPM Oil & Gas ® TWS 600S HD well service pump features a heavy-duty design built with quick and practical maintenance in mind. It supplies 6% higher rod load at pressures of 15,000 psi using a 3-inch plunger and 20,000 psi using a 2.5-inch plunger.
SPM QWS 2500 XL Frac Pump
The enhanced design of the SPM Oil & Gas ® QWS 2500 XL delivers extended service life and an increased rod load of 225,000 lbf even under the most challenging conditions of shale play operations. This amount was upgraded from the previous 207,000 lbf in January 2018 as a result of ongoing field performance. 
The SPM Oil & Gas ® TWS 2250 pump features great pressure and flow ratings in a smaller package than the large quintuplex pumps also offered by Weir. This frac pump is a staple to the line of SPM Oil & Gas ® well service pumps. Standard plunger sizes include 3.75-inch, 4-inch, 4.5-inch, 5-inch, 5.5-inch and 5.75-inch models.
SPM QEM 3000 Continuous Duty Frac Pump
The SPM Oil & Gas ® QEM 3000 is the industry's first high-horsepower frac pump built for continuous duty at 275,000 lbf rod load – validated at SPM Oil & Gas 's state-of-the-art R&D facility in Fort Worth and through harsh field trials. Engineered by SPM Oil & Gas from the ground up, it specifically addresses the shortcomings that lead to premature pump failure.
SPM Oil & Gas leveraged our nearly 150-year legacy of engineering excellence and the precision engineering of the proven SPM® QEM platform—with zero NPT reported in more than a billion field cycles—to design a heavy-duty, high-horsepower frac pump built to run at 100% of rod load, 24 hours a day—and it's built for electric, too.

The SPM® QEM 5000 E-Frac Pump answers industry demand for longer hours of operation,
offering extreme durability and total system cost reduction in a cleaner package.
Its compatibility with electric motors and gas turbines, means the SPM® QEM 5000 E-Frac Pump enables lower fuel spend and fewer overall assets on location. The pump's high capacity and durability are designed to reduce downtime, lower total cost of ownership, and improve your bottom line.
SPM QWS 1000S HD Frac Pump
The SPM Oil & Gas ® QWS 1000S HD frac pump eliminates contamination from pumping media into the power end, extending component life. It supplies 6% higher rod load at pressures of 15,000 psi using a 3-inch plunger and 20,000 psi using a 2.5-inch plunger.
SPM Destiny TWS 2500 Frac Pump
The SPM Oil & Gas ® Destiny® TWS 2500 frac pump is designed for operation in today's harshest multistage fracking applications. It features a 2,500 horsepower rating, 273,000 lbf rod load and 10-inch stroke. The longer stroke requires fewer cycles to produce an equivalent flow rate compared to an 8-inch stroke, intermittent duty quintuplex pump, resulting in less overall wear on expendables and improved overall pump durability.